Photo. (c) 2019 John Nevill.

Photo. (c) 2019 John Nevill.

Photo. (c) 2019 John Nevill.
Genus:
Lethrinidae (Emperors)
,
Monotaxinae
Scientific Name:
Gymnocranius grandoculis
English Name:
Blue-lined large-eye bream
Creole Name:
Kaptenn blan
French Name:
Empereur tatoué
IUCN Red List Status:
Least Concern (LC)
Description:
Dorsal spines: 10; Dorsal rays: 10; Anal spines: 3; Anal rays: 10.
Body oblong. Silver coloured with thin brown edge to scales. Forehead profile moderately steep; large adults developing a bony ridge on nape and bony shelf over front part
of eyes. Anteriodorsal half of head often brown. Eyes relatively large. Distinctive horizontal wavy blue lines on snout and cheek. Mouth relatively small. 2 or 3 pairs of
slender canines at front of each jaw, outer canine on each side of lower jaw is usually enlarged. Other teeth villiform, becoming conical on lateral sections of jaws.
Fins yellow or orange. Pectoral fins with a narrow brown bar across base. Caudal fin only moderately forked with pointed tips and may be dusky orange or yellow.
Juveniles under about 25 cm standard length often with five or six irregular dark bars on side and dark bar below eye.

Size:
Maturity: Lm unknown. Range unknown. Max Length: 80.0 cm TL. Common Length: 50cm TL.
Habitat and Ecology:
Inhabits offshore reefs, sandy, silty substrates and offshore rocky bottoms (depth 20-170m, normally 50-100m). Juveniles inshore on muddy substrates. Solitary or in
small groups. Feeds on benthic crustaceans and small fish.
In Seychelles the species also has a penchant for molluscs. The photo below shows the stomach contents of just two specimens at Victoria market (21/10/21).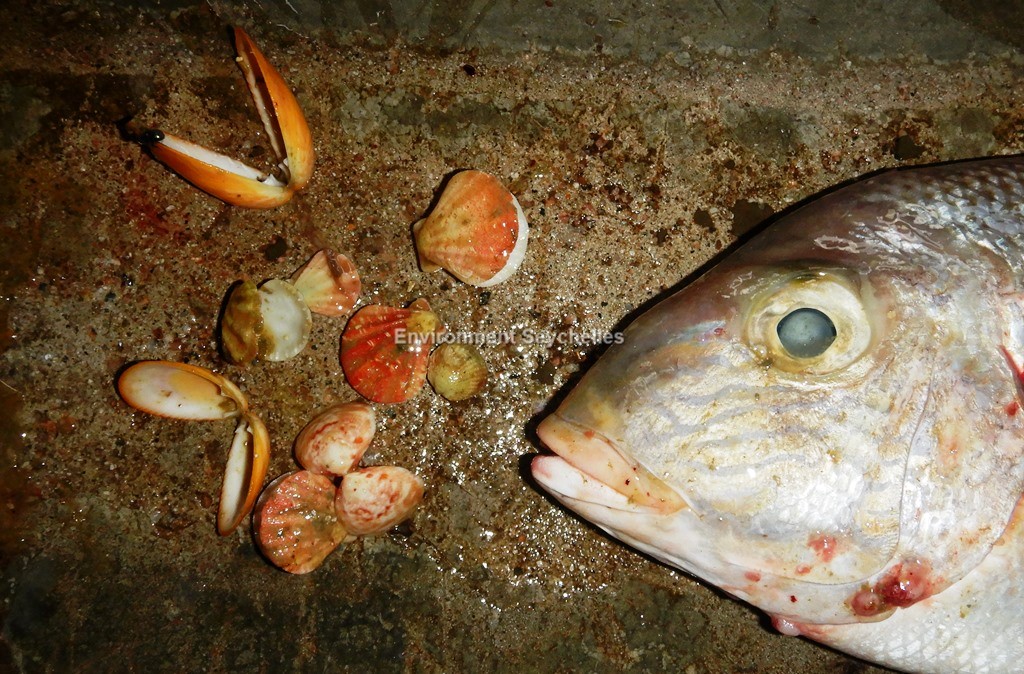 Fishery Status:
This species is not protected or subject to fishery regulations. It is caught in the hand line fishery and juveniles in the trap fishery. It is a relatively common
component of the catch and on occasion in large numbers.
Notes:
References:
Carpenter, K.E. & Allen, G.R. (1989). FAO Species Catalogue. Vol. 9 Emperor Fishes and Large-eye Breams of the World (Family Lethrinidae). An annotated and Illustrated Catalogue of Lethrinid Species Known to Date. UNFAO Rome. ISBN 92-5-102889-3
Carpenter, K.E. et al (2016). Gymnocranius grandoculis. The IUCN Red List 2016: e.T16719605A16722290. http://dx.doi.org/10.2305/IUCN.UK.2016-3.RLTS.T16719605A16722290.en. (02/04/19).
Froese, R. & D. Pauly. Eds. (2019). FishBase. https://www.fishbase.de/summary/1834 (02/04/19).
Heemstra P & Heemstra, E. (2004). Coastal Fishes of Southern Africa. NISC SAIAB. ISBN: 1-920033-01-7.
Nevill, J. (2013). A Species Identification Guide for Commonly Caught Fish in the Seychelles Near-Shore Artisanal Fishery. GOS/UNDP/GEF.
Citation:
Nevill, J.E.G. (2019). Gymnocranius grandoculis, Blue-lined large-eye bream. Seychelles Seatizens. www.seatizens.sc. https://seatizens.sc/species/gymnocranius-grandoculis-valenciennes-1830/ (Updated 26/10/21).