Photo. (c) 2020 John Nevill.

Photo. (c) 2020 John Nevill.

Photo. (c) 2020 John Nevill.
Genus:
Gastropoda
,
Mollusca
,
Pisaniidae
Scientific Name:
Engina lineata
English Name:
Creole Name:
French Name:
IUCN Red List Status:
Not Evaluated (NE)
Description:
A species of sea snail. The external structure is made up of weak axial ribs and fine spiral cords. The whole exterior is finely spirally striate. The lip is thickened and strongly denticulate. The columella and parietal calluses are plicate and there is an internal thickening of the columella bearing a pair of moderately strong folds.
Colour. White with black spiral bands and black spots, on the two white spirals above the aperture. The aperture is white.
Size:
Maturity: Lm unknown. Range unknown. Max Length unknown.
The two specimens pictured here were 10 and 11mm long respectively.

Habitat and Ecology:
Members of the order Neogastropoda are mostly gonochoric and broadcast spawners. Embryos develop into planktonic trocophore larvae and later into juvenile veligers before becoming fully grown adults.
Fishery Status:
This species is not protected or subject to fishery regulations. It is too small to be of interest to buyers and hence is not collected.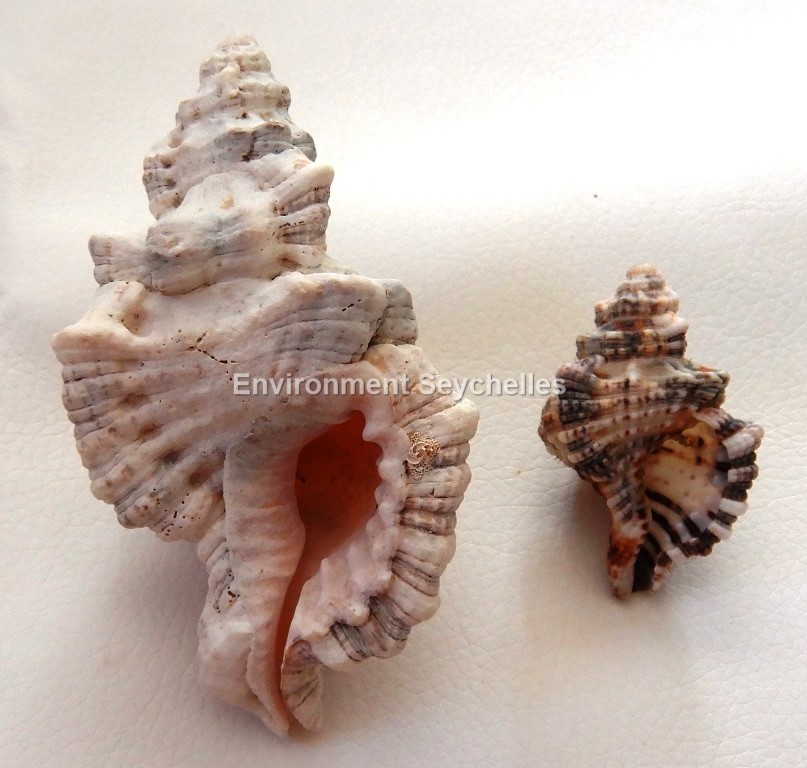 Notes:
References:
Jarrett, A.G. (2000). Marine Shells of the Seychelles. Carole Green Publishing, 2 Station Road, Swavesey, Cambridge CB4 5QJ. UK. ISBN. 1 903479 00 2.
MolluscaBase eds. (2020). MolluscaBase. Engina lineata (Reeve, 1846). Accessed through: World Register of Marine Species at: http://www.marinespecies.org/aphia.php?p=taxdetails&id=212172 (29/04/20).
Palomares, M.L.D. & D. Pauly. Eds. 2020. SeaLifeBase. Engina lineata. https://www.sealifebase.ca/summary/Engina-lineata.html (19/04/20).
Citation:
Nevill, J.E.G (2020). Seychelles Seatizens. Engina lineata. https://seatizens.sc/invertebrates/engina-lineata-reeve-1846/